Should I use WordPress, Joomla, or Drupal?
As with most things in life, some like it hot, some like it cold, and some like it warm. It is no different with these three Content Management Systems. A Drupal user will tell you how much they love Drupal (if they learn how to use it) and a WordPress user will tell you how much they love WordPress (if they have learned how to use WordPress.) Even the expert who is familiar with all three will have a favorite.
Looking at the number of installations identifed in a report compiled by BuiltWith Trends as listed below, and if you believe in the wisdom of crowds, WordPress is the undisputed choice.
My personal recommendation is based on the learning curve for the end user or customer  and perhaps more importantly, the maintenance of the software that is required. WordPress is universally considered to be the most user friendly for non-technical users and also provides a system for automatic updates. The efficiency of updating WordPress is a significant savings of money for our customers and time for our staff.
To understand what I am saying about the maintenance of the three systems, take a look at the upgrade procedures for each of them. Click on the link below:
According to Google Keyword Research Tool as surveyed on March 11.2011, there are:
---
11,100,000 Global Monthly Searches for for Joomla
4,090,000 Global Monthly Searches for Drupal
According to BuiltWith Trends – http://builtwith.com/
---
As of March 8, 2011
Content Management System Distribution
Calculated from the top 10,000 websites on the internet.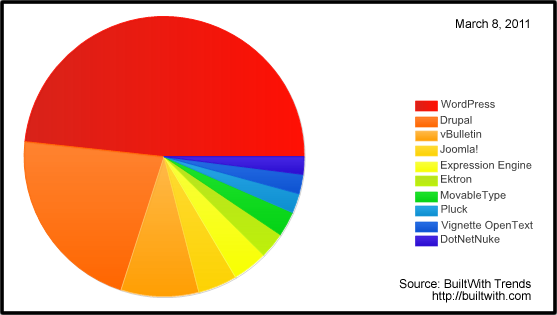 Top in Content Management System
Number of websites known to BuiltWith Trends as of March 8, 2011
WordPress – 4,038,467
Joomla – 1,407,230
Blogger – 396,580
Drupal – 279,166
Posted in: FAQ