Frequently Asked Questions
FAQ (3)
Accountability!
When things go wrong… and they sometimes do… who are you going to call? Your web designer builds your website on a content management system that is built by… someone else. Your site is hosted with… another company. The hosting company gets their server from… someone else. Your customers have many different computer and software configurations such as Macs and PCs, Internet Explorer 5, 6, 7, and 8, Safari, Firefox, Google Chrome, and the list goes on and on – and the buck gets passed from one company to another.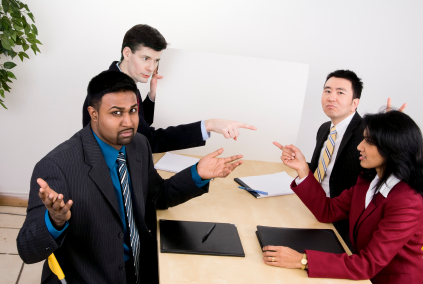 An Internet server is a complex piece of hardware that consists of various software packages that must work in harmony to support your website. From the operating system to the web server software , to various scripting languages such as PHP and JavaScript,  database software, and a myriad of other programs that are all suseptible to viruses, malware, and old age.

For a simplified example, when your server was built, it may have included software such as PHP 4.4.0, MySQL 5.0.1. When your website was built it worked fine with your server software. At some point your hosting company decides to update their server software and you get a call from your customer telling you that your site no longer works. Who are you going to call?

Sometimes it's the web designer who gets the call and sometimes it's the hosting company. Occasionally you even call the Internet Service Provider that you are using… or maybe it's your customer's ISP. Surely you have heard of similiar situations where everyone is blaming everyone else while they all scramble to cover themselves.

When you employ TreadStar Communications to build, maintain, and host your website, you only need to make one phone call. WE take the responsibility and hold ourselves accountable to fix your problem as fast as possible… without excuses.

A Content Management System 0r CMS,  is software that is designed to simplify the process of adding content to an existing website. Specifically helpful for non-technical website owners that want to manage their own websites.

There are many different CMS products on the market including several commercial products as well as open source versions that are free to use. The three most popular open source versions are WordPress, Joomla, and Drupla.

As with most things in life, some like it hot, some like it cold, and some like it warm. It is no different with these three Content Management Systems. A Drupal user will tell you how much they love Drupal (if they learn how to use it) and a WordPress user will tell you how much they love WordPress (if they have learned how to use WordPress.) Even the expert who is familiar with all three will have a favorite.

Looking at the number of installations identifed in a report compiled by BuiltWith Trends as listed below, and if you believe in the wisdom of crowds, WordPress is the undisputed choice.

My personal recommendation is based on the learning curve for the end user or customer  and perhaps more importantly, the maintenance of the software that is required. WordPress is universally considered to be the most user friendly for non-technical users and also provides a system for automatic updates. The efficiency of updating WordPress is a significant savings of money for our customers and time for our staff.

To understand what I am saying about the maintenance of the three systems, take a look at the upgrade procedures for each of them. Click on the link below:

According to Google Keyword Research Tool as surveyed on March 11.2011, there are:
---
11,100,000 Global Monthly Searches for for Joomla
4,090,000 Global Monthly Searches for Drupal
 

According to BuiltWith Trends – http://builtwith.com/
---
As of March 8, 2011
Content Management System Distribution
Calculated from the top 10,000 websites on the internet.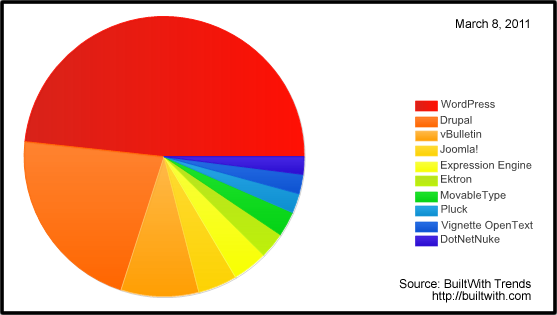 Top in Content Management System
Number of websites known to BuiltWith Trends as of March 8, 2011
WordPress – 4,038,467
Joomla – 1,407,230
Blogger – 396,580
Drupal – 279,166